Dassault Systèmes will upgrade the 3DEXPERIENCE cloud platform to R2021x during the weekend of April 25-26, 2020. DS is framing the 3DX Platform upgrade as a "new Compass experience." Here are some of the highlights of the upgrade:
3DX Platform Upgrade: Access to Roles and Apps
With the 3DX Platform Upgrade, the Compass now works as a single button, navigating to three sections:
ME to access your Roles and Apps
COMPANY to discover and request the Roles available on your platform
WORLD to navigate to the 3DS Solutions Portfolio and learn more about its values
The ME and WORLD sections also each include two tabs identifying Roles and Apps:
As a System of Operations tab reveals the solutions, Roles and Apps serving the industry and associated disciplines
As a Business Model tab reveals new categories of experiences and services serving any person in its business environment
With the As a System of Operations tab, users find their Roles and Apps similarly to previous versions:
My Roles section reveals the Roles granted to the user. Click on a Role to see the related Apps and to discover their values. New Role icons reveal the related Brand: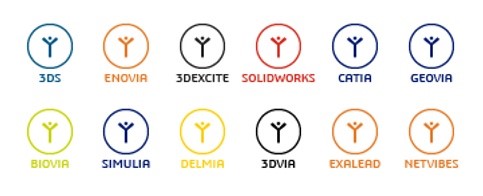 You can quickly access your Apps using the My Favorite Apps section. Drag and drop Apps to add, reorder or remove them from this section.
See all the apps you have access to in one single list in the My Apps section.
Use Search for Roles and Apps at the same time.
DS has removed the possibility to activate or deactivate Roles.
In the As a Business Model section, access Trading Experiences and their qualified ecosystems of industrial service providers:
MAKE for on-demand manufacturing
PART SUPPLY for on demand component sourcing
ENGINEERING for on demand engineering service
Users can now access the Roles available on the platform and view descriptions, videos and images.
3DX Platform Upgrade: Navigate the 3DS Solutions Portfolio
 With the 3DX Platform upgrade, users can access five industry solutions from the 3DX Solutions Portfolio, using the As a System of Operations tab:
3DEXPERIENCE COLLABORATIVE INNOVATION with roles that can be used in a full Software as a Service (SaaS) offering.
3DEXPERIENCE WORKS to empower users throughout the value stream, from upstream thinking to sales and marketing, with roles structured by domains.
3DEXP​​​​​​​ERIENCE Industry with a portfolio of industry solution experiences and industry process experiences and roles.
3DEXPERIENCE Healthcare and Life Sciences dedicated to industry solution experiences, industry process and roles (coming soon).
3DEXPERIENCE EDU with learning experiences for the workforce of the future in companies, professional, academic and student ecosystems.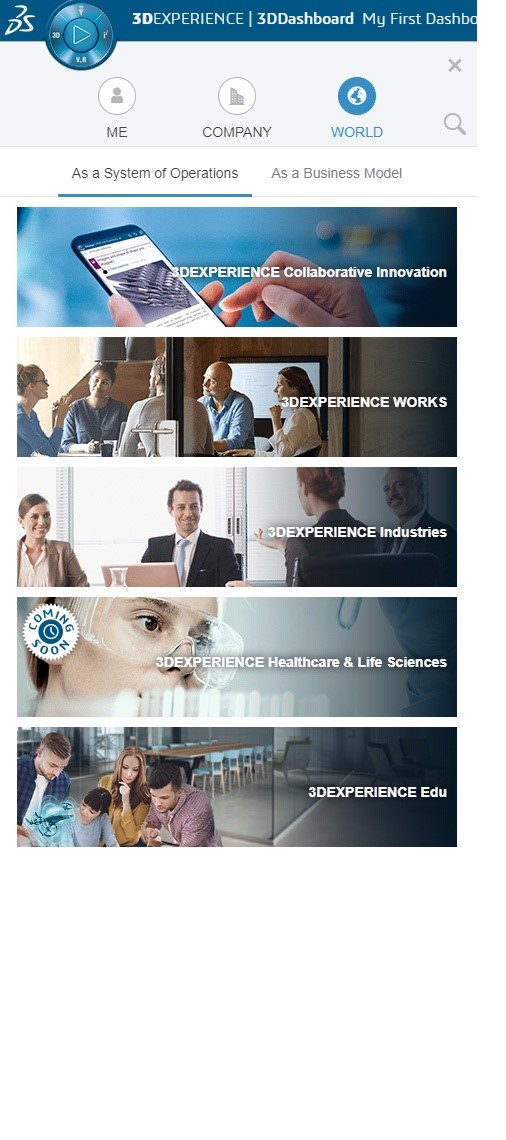 A Global UI Refresh
With the 3DX Platform upgrade, users will note a refresh of the UI with easy navigation and visual cues. Among the revisions, users now access brand user communities via the Help menu at the top bar. Users also can access the 3DEXPERIENCE Platform User Community directly.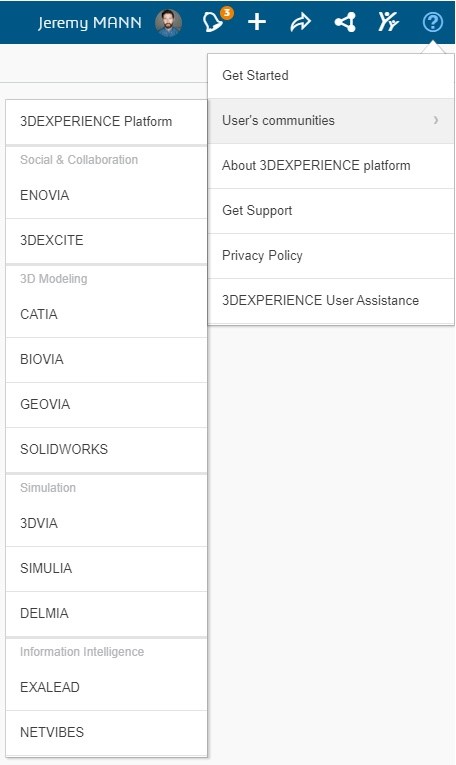 Looking for Help with 3DX?
xLM Solutions offers consulting and services for Dassault Systèmes products, including solution implementation, customization, and integration with other enterprise solutions, plus data migration guidance. Contact us today for advice and direction.