OpenBOM is a powerful, cloud-native PLM and PDM solution that's changing the way engineers, manufacturers and industrial companies approach their operations and engage customers, contractors and suppliers.
It's a software as a service (SaaS) global collaborative platform built on multi-tenant architecture that allows you to quickly and securely manage CAD files, parts, documents, bill of materials (BOM), vendors, inventories and purchases.
Out-of-the-box integrations for CAD systems, file storage and document management, open REST API and other features give users superior control over data, product development lifecycle, production, inventory management, procurement planning and other processes, all while making it easy to communicate in real time with supply partners and end users.
Ready to see OpenBOM in action? Register now for FREE.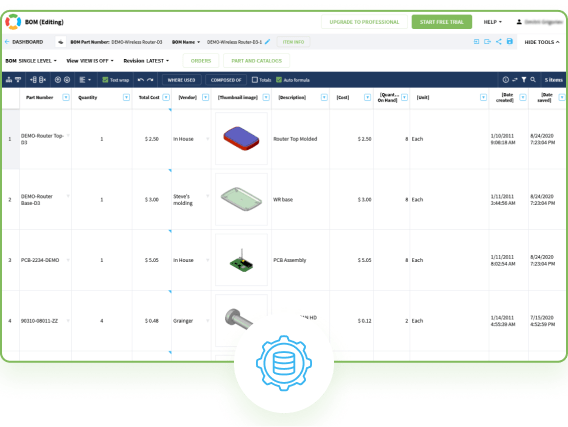 Why OpenBOM?
Easy to Use UI
OpenBOM's User Interface (UI) was inspired by Excel — but with a lot more power behind it. It's easy to navigate and implement changes.
Integration Capabilities
A cloud-based, multi-tenant solution, OpenBOM integrates with your existing tools and enables one source of truth across your organization. You can add CAD integrations and begin sending files, items and BOMs from CAD to OpenBOM within minutes. OpenBOM offers built-in plugins for SOLIDWORKS, Oracle NetSuite, Fusion 360, Quickbooks and many other solutions.
Flexible Data Model
OpenBOM can be deployed across your entire enterprise quickly and easily. You use it whenever, wherever and customize the solution's data model to suit your unique business needs.
Share Files and Data in Real Time
Collaborating with your team, suppliers and contractors has never been easier. OpenBOM's patented simultaneous data sharing and editing capabilities make it easy to communicate and share files and data in real time, whether you're working in the same facility or remotely in different parts of the world.
Production & Procurement Planning
Use OpenBOM to manage gap analysis, BOM planning, purchase order management and other production planning, inventory management and purchasing tasks. The solution's user-friendly UI makes it easy to define product quantities and manage item inventory.
BOM, CAD & Item Management
OpenBOM offers full revision support and automated tracking for BOM, CAD and Item changes. You can also use it to manage change requests, approval mechanisms and other activities, giving you complete visibility into and control over BOM structures, CAD files, documents and related information.
OpenBOM is a simple online tool that enables engineers, manufacturers, suppliers and contractors to work together. Register now for FREE to learn more and explore the solution.
xLM Solutions is a Proud OpenBOM Partner
xLM Solutions has ample expertise with OpenBOM implementation, integration, customization and data migration. We have also developed some of our own solutions and videos to help you use OpenBOM even more efficiently.
How to Use OpenBOM's New Command Feature: In this video, Marc Young of xLM solutions discusses how to use the new command feature within OpenBOM. The feature enables user-clickable commands to perform various operations, including integrating OpenBOM data with other systems, generating custom reports and more.
If you're considering a move to OpenBOM or have any questions about the solution and how to use it, xLM Solutions is here to help. Get in touch with our experts today.
Ensure your PLM Implementation success
Contact xLM Solutions today to speak with our experienced consultants who can provide a roadmap of what to expect and the decisions to be made throughout an implementation. We will help you identify all the key considerations and point out the pitfalls to avoid. By working with experienced professionals, your PLM implementation can be an extremely rewarding and valuable economic decision that will help your business compete and thrive in today's market and beyond.
Whether you are looking for product pricing or to learn more about our services, we are here to help you evaluate the best options for your company.