DELMIA® is Dassault Systèmes Global Industrial Operations software focused on digital manufacturing and manufacturing simulation. It connects virtual designs with real world applications to achieve operational excellence.
The DELMIA solutions relate to:
Supply Chain Planning & Optimization
Sales & Operations Planning (S&OP)
Manufacturing Operations Management (MOM)
Industrial Engineering
DELMIA digital manufacturing capabilities extend visualization into manufacturing — users can simulate manufacturing processes before the physical plant or production line even exists.
We support the DELMIA suite of digital manufacturing products, including:
Manufacturing Engineering/Process Planning/MBOM/RFLP-MSR-PPR
Work Instruction/SOI/Process Planning
Global Modular Architecture/Supplier Management and Sourcing
Collaborative Document Management
Resource Equipment Allocation
Planning Structure
Manufacturing Item Definition
PLM Engineering/PLM Manufacturing/MES/ERP Feedback loop
PPR Management/J&T Management/CoS Management
Standard Part Management & Multi-Representation (Flexible)
Fastening (Fasteners/Fastens) & Riveting
MES APRISO Implementation (Process Builder/Screen Flow Management/Configuring Business Logic/Report Administration/ Global Process Manager Basics/Business Integrator Basics/ Background jobs processing/SQL Query Execution Basics)
Architecture Manufacturing & Business Process Re-Engineering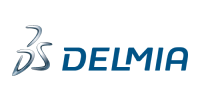 Ensure your PLM Implementation success
Contact xLM Solutions today to speak with our experienced consultants who can provide a roadmap of what to expect and the decisions to be made throughout an implementation. We will help you identify all the key considerations and point out the pitfalls to avoid. By working with experienced professionals, your PLM implementation can be an extremely rewarding and valuable economic decision that will help your business compete and thrive in today's market and beyond.
Whether you are looking for product pricing or to learn more about our services, we are here to help you evaluate the best options for your company.