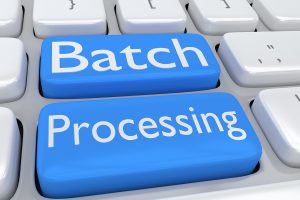 Are you looking for ways to conduct batch processes in SOLIDWORKS PDM? Do you need to create derived output, i.e., PDF files, for other file types beyond SOLIDWORKS files? Do you need more than the out-of-the-box tasks that come with SOLIDWORKS PDM?
We know that conducting batch processes in SOLIDWORKS can be resource-intensive in terms of computer time. SOLIDWORKS PDM comes with basic functionality for generating PDFs and printing SOLIDWORKS files, but in many cases, companies need additional functionality for batch printing, PDF generation and other automated tasks.
Because the creation of such custom tasks requires advanced programming expertise and experience, xLM Solutions has expanded and enhanced the PDM out-of-the-box tasks to provide powerful tools for batch printing, PDF file generation and other automated tasks.
Different Solutions for Batch Processes in SOLIDWORKS PDM
 xLM Solutions' Batch Print/PDF Generation tool streamlines these different batch processes in SOLIDWORKS PDM:
Generation of PDF files and integration with Microsoft SharePoint. We discuss ways we have integrated Microsoft SharePoint with SOLIDWORKS PDM for our customers in our blog post xLM Talks: Integrate Microsoft SharePoint to SolidWorks PDM.
Generation of PDF and printing for non-SOLIDWORKS office types, e.g.,

Autodesk Inventor
AutoCAD/DraftSight DWG files
SolidEdge drafts
Visio documents
And more

Securely moving files and/or zipping them and placing in them in a secured supplier portal/FTP site
Merging various PDFs together
Watermarking PDF files. For example, we have written a Job Number to print when printing for specific jobs or watermarking the status of the file to illustrate if it is a "released" or "in work" file.
Any many more unique customer solutions…
All such solutions can be triggered through a change state in a workflow and/or through a right mouse button click on the file(s). In addition, we provide the ability to configure the various solutions so that companies are able to extend and upgrade their SOLIDWORKS PDM systems and task functionality without the need to revisit or change the custom task. We provide detailed logging and error handling to easily troubleshoot and resolve any issues with running a task.
Your Challenges. Our Solutions
Our solutions are easy to implement and use. They free up the end user to concentrate on other work while the computer processing is off-loaded to a batch server.
We would be happy to discuss our current batch processing solutions with you or discuss a custom solution to meet any specific requirements.
What are your batch processing challenges in SOLIDWORKS? Contact us today.