As you may know, the 3DEXPERIENCE platform has a bunch of roles and applications that can all be configured.
Widgets, for example, can provide quick access to information such as platform apps, community content, and web content – and can be easily configured.
In the 3DEXPERIENCE, these widgets can be inserted into Dashboards; the dashboards can be created from scratch or from a template and the widgets can be added just by dragging them from the available apps or from any of the four Compass platforms: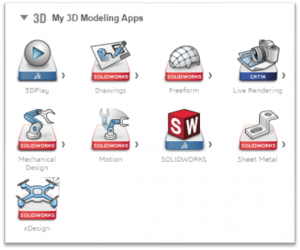 The widgets and their contents can be:
Shared with other users
Duplicated
Added or deleted depending on the necessity
Displayed on fullscreen
Moved to other dashboards
Configurable based on user's needs
A wide variety of widgets exist for different actions, form release operations to view analytical data from the web, some of the key widgets used in the 3DEXPERIENCE platform are:
Engineering Release – used for BOM Management and release operations
Product Structure Editor – Used for BOM Management manipulation and viewing of 3D Data
Issue Management – Used for creating and managing issues
3DPlay – for viewing for various file formats
Social Analytics – for viewing analytical data from the web
Want to know more about widgets and how to use them to simplify your life while using the 3DEXPERIENCE platform?
Register now and join xLM solutions experts in the 3DEXPERIENCE Widget Fundamentals webinar on December 10th at 11 a.m. EST and learn how to:
Create widgets using standard web technologies like HTML5, JavaScript, and CSS
Draw your widget information from both internal content like 3DSwym, 3DSpace, etc., and external content like YouTube, Weather, RSS Feeds, etc.
Use different approaches to displaying your widgets
And much more…
Register here and don't miss this webinar!