I want to share what I learned during my three days at 3DEXPERIENCE World 2020 (formerly SOLIDWORKS World). In addition to seeing colleagues, connecting with friends, partners and customers, eating some delicious food, and listening to good music, I thought the conference was educational and inspiring.
As the name change implies, the focus of the conference and many of the sessions were more about 3DEXPERIENCE rather than what people are calling the native SOLIDWORKS thick client and SOLIDWORKS PDM.
The Dassault Systèmes team introduced 3DEXPERIENCE.WORKS, a portfolio of apps on the 3DEXPERIENCE platform geared to SOLIDWORKS customers and small to midsize enterprises. It includes various apps such as design, lifecycle management, change management, simulation and project management.
Day 1 of 3DEXPERIENCE World 2020
Day 1 of 3DEXPERIENCE World 2020 started with SOLIDWORKS CEO Gian Paolo Bassi introducing the conference and its theme "To be human is to dream."
He introduced 3DEXPERIENCE.WORKS, which is the 3DEXPERIENCE platform tailored and simplified for the SOLIDWORKS user and midsize companies.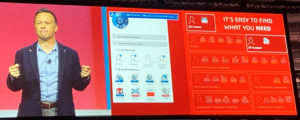 Just like the 3DEXPERIENCE platform, 3DEXPERIENCE.WORKS is role-based with specific functionalities assigned or licensed to specific users based on their role within the company.
Next up was Dassault Systèmes CEO Bernard Charlès, who spoke on Dassault Systèmes' vision "to provide business and people with 3DEXPERIENCE universes to imagine sustainable innovations capable of harmonizing product, nature and life."
He talked about various solutions and programs being offered by Dassault Systèmes. I was interested especially in these:
Challenges from the 3DS Academy: DS sponsors competitions and training at the high school and college level. The competitions ask students to design items such as humanoid robots, electric-powered submarines, solar racecars, next-generation drones and even space shuttles using DS training and support materials. Enterprises can also leverage the Challenges training and associated materials.
HomeByMe: HomeByMe is an online 3D space planning service developed by Dassault Systèmes. Users can plan, design and decorate their home in 3D and find interior design and decorating ideas.
More About 3DEXPERIENCE.WORKS
We learned more about how 3DEXPERIENCE.WORKS supports different functions:
Design – via the various SOLIDWORKS/3DEXPERIENCE design apps and SolidWorks itself
Simulate – via Dassault Systèmes SIMULIA product and its various simulation features
Manufacture – via the DELMIAWORKS ERP/MES based on lasts year's IQMS acquisition
Manage – via all the governance applications, such as lifecyle management, change management and product management with the 3DEXPERIENCE platform
Gian Paolo described three new solutions coming from SOLIDWORKS this year which will be accessible from the 3DEXERPEINCE platform:
3D Sheet Metal Creator: sheet metal design available in any browser
3D Pattern Shape Creator: a new way to create shapes based on visual programming
Function-Driven Generative Design: an advanced multi-scenario and multi-physics topology optimization
He also described the three levels of 3DEXPERIENCE.WORKS – Standard, Professional and Premium.
After hearing about the new offerings, we learned about how organizations are using SOLIDWORKS in impressive ways:
Magic Wheelchair – This was a very touching presentation from the non-profit that creates specially designed wheelchairs for kids, with no cost to the family. The organization is also promoting the idea of kids helping kids at schools and other organizations to help design and build similar magical wheelchairs for kids.
BioDapt designs, manufactures and distributes high performance lower limb prosthetic components used for action sports and similar activities. The company was started by Mike Schultz, a professional snowmobile racer who lost his leg above the knee in 2008. He uses his own design in competing in various motocross competitions and is a nine-time X Games Gold Medalist in motocross, snowmobile and snowbike and a Gold and Silver Medalist in snowboarding from the 2018 Paralympic Winter Games.
Matt Carney is conducting research with the Biomechatronics Group at the MIT Media Lab. He is working to connect cybernetic interfaces to the human body and is focused on the future of prosthetics to eventually create full biological capabilities in artificial and bionic limbs.
Day 2 of 3DEXPERIENCE World 2020
The second day at 3DEXPERIENCE World 2020 was all about the "Experience" or solutions that make up 3DEXPERIENCE.WORKS, including the project management solutions and related project management apps.
The focus on day 2 then turned to different services offered on the platform and how enterprises are using them to source and manufacture parts:
3DEXPERIENCE Make is a marketplace for manufacturing on demand. You design the part then choose a manufacturer to actual manufacture it for you.
3DEXPERIENCE Marketplace | Engineering connects you with a third party to perform engineering services or certifications on your product, e.g., run a multi-physics simulation on your product.
3DEXPERIENCE Marketplace | PartSupply is a catalog of sourceable 3D components that you can download and use in your design.
Dassault Systèmes has set up "IfWe" communities made up of customers, partners/VARs and DS staff that provide specific support for unique challenges.
During 3DEXPERIENCE World 2020, presenters highlighted these companies using 3DEXPERIENCE and SOLIDWORKS:
Day 3 of 3DEXPERIENCE World 2020
As the third day at 3DEXPERIENCE World 2020 started off, we heard from 3DAeroventures about how they are building 3D-printed model planes.
The members of the SOLIDWORKS Education group talked about how it is helping various schools and programs around the world, for example, their SOLIDWORKS XDesign challenge in India.

A team from Gravity Industries spoke about how they are developing jet packs for human flight. They discussed their agile design process and how they are using additive manufacturing to quickly make prototypes and test their designs.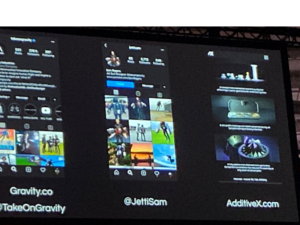 Next up, we had a fun and interesting segment called Pitch Battle (like Shark Tank) where start-up engineering firms who use SOLIDWORKS pitch their product and compete for a $10,000 prize. We saw some interesting and amazing ideas. Winter Innovations, a surgical device company, won the prize.
We were very eager to hear from Dean Kamen and we weren't disappointed.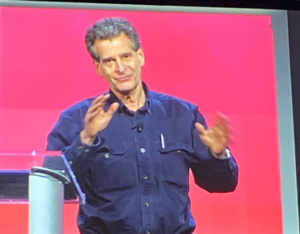 He gave an inspirational speech. It was interesting to hear how some of his inventions were originally designed for one purpose and ended up being mass produced for other purposes. He created a tap water purifying system to run on minimal energy to work with his dialysis system and to produce drinkable water in developing countries. The technology is now also used in the Freestyle Coca-Cola soda fountain.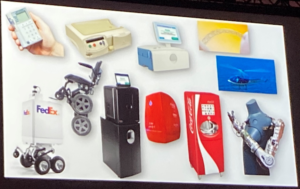 Dean completed his presentation talking about his passion for First Robotics, which he founded, and its growth in the last 20 years. First Robotics is the hands-on program that introduces students to coding, programming, and engineering to work collaboratively to solve a yearly robotics challenge. His vision is to share knowledge and training for our kids about technology and to encourage them to compete in technology challenges the same way they compete in athletic sports.  His goal is to "transform our culture by creating a world where science and technology are celebrated and where young people dream of becoming science and technology leaders." He noted the support of SOLIDWORKS over the years.

3DEXPERIENCE World 2021 will be once again be in Nashville, TN in February 2021.
If you'd like assistance implementing 3DEXPERIENCE solutions, contact us today.