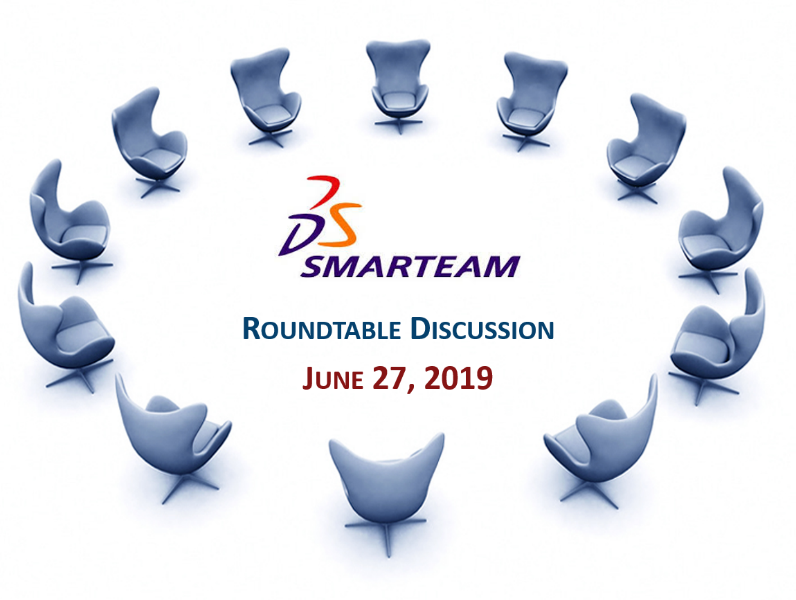 We recently moderated a roundtable webinar about SmarTeam among current users. We focused on three main areas of discussion: the current status of SmarTeam, suggestions for the future, and how to move to the 3DEXPERIENCE platform.
The Current Status of SmarTeam
In our roundtable, we discussed how the ENOVIA SmarTeam PDM application remains a supported product. It is useful for small to mid-sized companies and engineering departments by providing design data management with single-site or single-discipline collaboration. Because it is based on a V5 platform just like CATIA V5, as long as Dassault Systèmes supports CATIA V5, it will also support SmarTeam.
We understand that when DS support for SmarTeam comes to an end, it will surely be a phased process, with users able to purchase extended support. You can depend on DS giving plenty of notice when it's time to suspend support for SmarTeam.
Current users don't need to immediately migrate off SmarTeam, but they need to understand that it is based on older technology that will eventually be replaced. At xLM Solutions, we are conducting many SmarTeam upgrades and customization/extension projects.
Looking to the Future
It is always wise to be proactive when dealing with technology that is slated to be replaced. The first step when investigating a replacement system for SmarTeam is to look at current business processes, understand which are the critical processes and document the use cases/user stories of how users are working today. Next steps include reviewing various solutions that match identified needs.
There is an established migration path from SmarTeam to the 3DEXPERIENCE platform, with technologies and methods already in place to move data from SmarTeam to the 3DEXPERIENCE platform.
For those users already working with the DS product line, including CATIA or SOLIDWORKS, 3DEXPERIENCE will be an excellent fit. For non-CAD specific or a competitor's CAD users, we also suggest that you consider 3DEXPERIENCE.
When reviewing different solutions, it's important to compare:
Functionality
Ease of use
Cost of licenses
Total cost of ownership
Relationship with the vendor
How you are using SmarTeam now and how that translates to 3DEXPERIENCE or another system
Users will want to understand if a new system can do what they need it to do and fully grasp how to get the data out of their current system into a new system. It can be a large undertaking to make sure a new system supports the special functionality you have in your current system. A critical step is to document the key requirements required for the new system and understand how the requirements will be met.
During the roundtable, we also discussed data migration, which can include CAD data and associated metadata, engineering change data, engineering and manufacturing BOM data, and non-CAD data including test backs, lab reports, and marketing data. In a data migration process, we identify which data is needed in the new system and which data can be purged.
Moving to the 3DEXPERIENCE Platform
xLM Solutions has worked with many customers migrating data from SmarTeam to the 3DEXPERIENCE platform. We understand that every customer will have different priorities and requirements for their PLM implementation. Working with a consultant with extensive experience makes for a smoother process.
One xLM Solutions customer, for example, had a significant amount of customization in its SmarTeam implementation. As this customer started using 3DEXPERIENCE, we were able to remove about a half of the customizations because the new system could handle the company's processes directly out of the box. The customer later added customizations to 3DEXPERIENCE to fit its unique needs and expand the solution into other areas.
Another customer had very few customizations in its use of SmarTeam but as we migrated from SmarTeam to the 3DEXPERIENCE platform, we added customizations relating to CAD mapping to match its previous use of SmarTeam.
We had another data migration customer with over one million documents in SmarTeam plus data from its ERP system. Over about 18 months, our team worked to identify any functionality gaps and coordinate the data migration – the entire project took a couple migration cycles to get to the desired goal.
This customer also required expanded BOM management processes and so the customer decided to migrate from SmarTeam to the 3DEXPERIENCE platform because it had better method to synch with ERP data. As the customer expanded its operations, it added more 3DEXPERIENCE modules, for example, for quality and project management.
Are you considering moving from SmarTeam to the 3DEXPERIENCE platform? Interested in discovering what you can or should be doing with your SmarTeam system? Need more information on 3DEXPERIENCE? Contact xLM Solutions for expert guidance and consultation.