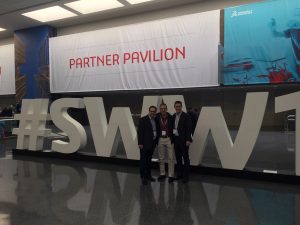 We always have a good time at SOLIDWORKS World – this year the event was held in the big D, Dallas. We enjoy hearing from SOLIDWORKS users about their successes and innovations. The conference is also the best way to hear industry perspectives and product announcements from SOLIDWORKS and Dassault Systèmes executives.
Here's what we experienced at SOLIDWORKS World 2019.
Day 1: Product Announcements
The first day began with news from SOLIDWORKS CEO Gian Paolo Bassi as he introduced "3DEXPERIENCE.Works." This new offering is designed to deliver a simple solution on top of the 3DEXPERIENCE platform, geared to the SOLIDWORKS user community. As described in the press release, it is a "new portfolio of industry-aware applications on the 3DEXPERIENCE platform, tailored to the needs of SOLIDWORKS customers and small- and mid-sized companies."
3DEXPERIENCE.WORKS is cloud-based and will include the key Dassault Systèmes brands:
Planning with PDM/PLM features (ENOVIA)
Design (SOLIDWORKS)
Simulation (SIMULIA)
Manufacturing (DELMIAWORKS, which is MES and ERP, with the rebranded IQMS)
Dassault Systèmes CEO Bernard Charlès gave an interesting talk about the Dassault Systems vision of the virtual world expanding into the real world, based on the intersection of art, technology and science. He recapped a quick history of Dassault Systèmes and its focus on 3D CAD solutions, PLM and its platform that connects the user experience from initial concept to manufacturing processes.
The informative Dassault Systèmes roundtable included customer stories from Koller, Square Robots and Infocus, plus a discussion of how the platforms can support companies as they source components and make parts. The roundtable discussion also described Marketplace for Engineers, which connects businesses with skilled engineers.
This Day 1 session included a video about using the 3DEXPERIENCE platform to manage SOLIDWORKS data with the functionality available to load that data into other design apps. Introduced during the conference was SOLIDWORKS xShape, which brings the power of free-form Sub-D (subdivision) modeling to let users create a freehand design organically and then load it into SOLIDWORKS.
Jim McKelvey, co-founder of Square payment processing device (which he designed in SOLIDWORKS), finished out the general session. He described his original guiding principles that he followed for running his company:
Seek Opportunities
Ship Great Products
Work Fast
Be Bold
After running his company and thinking about these principles, he changed them to:
Solve Problems
Be Fast and Good
Learn When
Humbly Preserve
His presentation gave us a lot of food for thought.
Starting in 2020, Dassault Systèmes is rebranding the SOLIDWORKS World conference to 3DEXPERIENCE World. We expect that Dassault Systèmes will start making 3DEXPERIENCE World its main conference and slowly add more Dassault Systèmes content over time. Next year's conference will be held in Nashville, TN.
Day 2: Customer Stories and SOLIDWORKS R&D Labs Innovations
Day 2 was divided into three tracks of general sessions:
Design to Profit – SOLIDWORKS experts and customers showcased the tools and solutions that help in the design and manufacture of products. We saw the newest workflows and methods to get designs to manufacturing and then sold using a seamless integrated solution.
New Horizons – We heard from some amazing SOLIDWORKS customers who are developing barrier-breaking products outside of mechanical design using SOLIDWORKS.
R&D Futures – Speakers previewed the cutting-edge technologies taking form at Dassault Systèmes/SOLIDWORKS R&D Labs shaping 3D design in the coming years.
Day 3 : The Future for SOLIDWORKS
On the third day, we heard customer success stories, including Dean Kamen's work with tomorrow's engineering superstars and how 3D printing is being used to solve everyday problems. We enjoyed the 3DEXPERIENCE Pitch competition and hearing from professional athlete and astronaut, Leland Melvin.
We heard more news about SOLIDWORKS products and the paths the company is taking. It's our understanding that Dassault Systemes is extending its 3DEXPERIENCE vision into the SOLIDWORKS community, slowly but surely, to offer greater opportunities from the full platform.
What was your favorite part of SOLIDWORKS World 2019? Let us know. And contact us for guidance and solutions for SOLIDWORKS projects.