Marc Young, President/Owner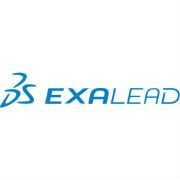 Summer is a great time to learn about products and functionality and that's exactly what the xLM Solutions team did – we took a 4-day intensive enablement course on Dassault Systèmes EXALEAD and the various solutions DS offers under the EXALEAD brand.
EXALEAD's core engine, CloudView, is a high-end data discovery and search platform that powers search, data collection, and indexing among all technology solutions, including PLM, ERP, equipment management platforms, etc. Users can access part properties, dimensions, part revisions, CAD files, vendor information, pricing, and so forth. EXALEAD creates connectors to index the information from all systems and consolidates it in one place. It streamlines the coordination of hundreds or thousands of data points about parts and their attributes.
The Aberdeen Group estimated that 45 percent of an engineer's time is spent searching for or recreating parts. EXALEAD should cut that time significantly.
Users might wonder if EXALEAD works with non-DS solutions. Yes, it does. 
EXALEAD Solutions
EXALEAD offers several solutions within its platform.
EXALEAD OnePart is a Discovery Application used by design, engineering and manufacturing teams to find and reuse legacy parts, 2D/3D designs, and related documentation contained in CAD and file systems from across the enterprise. It locates, converts, and visualizes legacy parts and design data from selected sources systems (files, PDM, etc.), while integrating with existing workflow management solutions. The OnePart solution is broken down into two sub solutions – Reuse and Reduce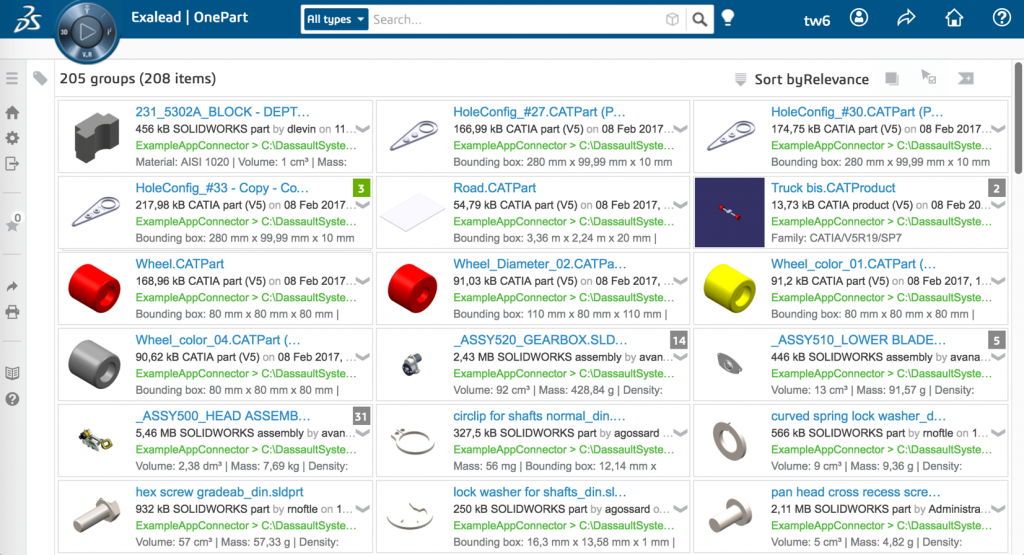 EXALEAD OnePart Reuse streamlines part reuse, simplifies the make-or-buy process and enforces standardization. Users can categorize and group similar parts together, compare them, and choose the best choice for reuse. Rather than creating a new part, engineers can search using hundreds of criteria to find the cost-efficient part to reuse. Set up standardization and procurement preferences with OnePart Reuse to compare parts, designs, and documents.
With EXALEAD OnePart Reduce, procurement departments can review parts, analyze and understand their similarities, and purchase parts from the lowest priced vendor. It uses 3D CAD Similarity and Machine Learning technologies to cross-link engineering and purchasing data to enhance the purchasing strategy.
EXALEAD PLM Analytics adds search functionality, graphing and widgets within the 3DEXPERIENCE platform. It gives users the ability to fully manage product programs, from design to change traceability, cost, quality, and issue analytics. Users can embed EXALEAD PLM Analytics into the PLM system to handle Issue, Project and Change Management problems. Similarly, PLM Analytics can be customized to meet users' search and consolidation needs.
What Can We Do for You?
Does it seem like the engineering department is creating new parts, simply because they do not have a good solution to determine if a similar part already exists? Do you have data in different silos, i.e., PLM, ERP, etc., and want to see consolidated data from the systems in one place? If the answer is yes to these questions or if you are considering adding EXALEAD search functionality to your technology solutions, contact xLM Solutions for guidance.