The end of the year brings a time for reflection upon where we are and where we're going. As we review 2017 and start looking forward to 2018, we know that our value propositions remain unchanged: we strive to understand and resolve our customer's challenges with PLM and related software. This includes designing tools and creating solutions that extend the potential of PLM and other lifecycle management software. We conduct requirement analysis, install solutions, configure and customize systems and provide extensive support and maintenance options.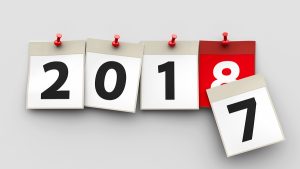 Here are some of the ways we helped our customers in 2017.
Upgrade and Data Migration Projects
Upgrade and data migration projects continue to be priorities in our work. Our upgrade projects helped teams move from 2014X to 2017X and migrate from SMARTEAM CATIA V5 data to 3DEXPERIENCE 2017X. Our data migration tools streamline these projects.
Are you about to start a data migration project? Read about the six most important considerations before you start your migration project.
For those migrating out of SOLIDWORKS WORKGROUP PDM product due to the end of product support as of December 31, 2018, we can help you migrate to SOLIDWORKS PDM Standard or Professional, or help you define your needs beyond PDM into PLM. xLM Solutions helped develop the prototypes for some of the migration tools. Need help with your migration decision? Read our blog Migrating out of SOLIDWORKS WORKGROUP Options
New and Upgraded Tools
In 2017, we upgraded our ENOVIA SOLIDWORKS reference tool. It checks for any missing references within ENOVIA and automatically replaces them when a SOLIDWORKS file is opened in 3DEXPERIENCE SOLIDWORKS integration. The tool automates the manual process and only takes seconds to fix compared to an hour. Check out what our customers have to say about this tool in our blog post.
Also in 2017, we continued to implement our fully customizable SOLIDWORKS PDM Merge tool. It merges PDM vaults based on your unique merge requirements. Specifically, it merges:
full data history
files
folders
references
It adds prefixes to files with duplicate filenames. When you configure the merge tool to your requirements, you can control specifically how the files are merged, where the data is merged (root folder or another identified folder), data mapping between variables and how the workflows and their states are merged. Read how it works in our blog post, xLM's SOLIDWORKS PDM Merge Tool.
Talking About Customizations
Customizing your PLM/PDM system is a powerful way to expand its potential while still allowing for updates, support and compatibility. We have successfully deployed dozens of customizations which broaden the capabilities of the system to meet customer specifications. As customers approach a customization, we recommend that they go through an intentional and strategic process to identify the goals, test cases and testing environment that does not distract production, and documentation requirements involved in a customization. Read about the myths vs. facts surrounding customizations in our blog post, The Value of Customizations in PDM/PLM Implementations.
User and Vendor Conferences
We find user and vendor conferences extremely informative as we network with customers and colleagues and learn about new products. We discover new ideas about how the market is using xLM's various solutions and tools and where we might develop other options. Read about the results of our efforts at these conferences and meetings:
Highlights from the 3DEXPERIENCE Forum 2017
Picture This: ENOVIA SOLIDWORKS User Group Meeting
Sharing with Colleagues at the COE 2017 Annual PLM Conference & TechniFair in Orlando in April
Joining PLM Experts in Nashville at Aras Community Event (ACE) 2017 in March
SOLIDWORKS World User Conference in LA, February 2017
Looking Forward to 2018
What's coming in 2018? We're developing exciting new tools and services in 2018 to fit your PLM solution needs. Specifically, we're:
Growing our team (see our job posting)
Expanding our work with 3DEXPERIENCE projects including new implementations, data migrations and customizations to meet unique client needs.
Developing new productivity tools for 3DEXPERIENCE – let us know your wish list.
Continuing a focus on data migrations with SOLIDWORKS PDM, 3DEXPERIENCE, Aras and others from such legacy systems as DBWorks, Adept, Autodesk Vault, Meridian and many others. Let us know how we can help you.
Continuing to improve and devise new tools for SOLIDWORKS PDM including SharePoint to SOLIDWORKS PDM integration, batch printing and PDF creation.
All in all, 2017 has been a banner year for us at xLM Solutions. As we grow, we continue to focus on our goals of streamlining processes, increasing productivity and achieving cost savings for our customers.
How can we help you achieve your goals in 2018?