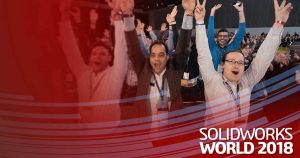 We'll be in Los Angeles February 4-7 at SOLIDWORKS World 2018. Are you going? We're eager to attend this major gathering, with the subtitle of "LEARN, PLAY, WORK, CONNECT, IGNITE" to network with the SOLIDWORKS user community.
The lineup of keynote speakers offers thought-provoking topics:
Brent Bushnell, CEO of Two Bit Circus, with fun stories from his adventures in entertainment engineering.
Neri Oxman, architect, designer, inventor, who develops and employs design principles inspired or engineered by Nature.
Joe Hirura and Robert Andrew Johnson, Hollywood art directors/set designers who used SOLIDWORKS in their sci-fi and superhero films.
Kyoungchul Kong, professor and CEO/Founder of SG Robotics which develops wearable robots and assistive technologies. Look for his ANGELEGS product.
Michael Jagemann, head of production for the XB-1, history's fastest civil aircraft.
While we're at SOLIDWORKS World 2018, we'll be happy to discuss our end-to-end PLM/PDM services and solutions and our expertise in implementing SOLIDWORKS systems and data migration projects.
xLM Solutions and SOLIDWORKS
Among our proven tools and methodologies specifically designed for SOLIDWORKS systems are the following:
See you in LA next month.