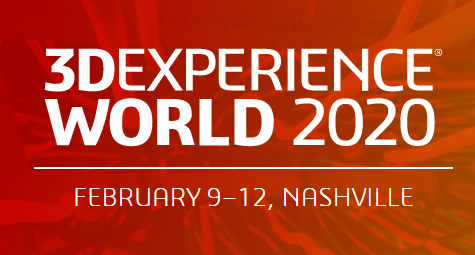 We're planning our visit to Nashville for 3DEXPERIENCE World 2020 (formerly SOLIDWORKS World) for February 9-12. Are you going? We're very eager to hear about how Dassault Systèmes perceives the Industry Renaissance affecting how manufacturers use 3D design to produce their products.
As always, we want to meet up and network with as many colleagues as possible in the 3DX world.
If you're going to 3DEXPERIENCE World 2020 and would like to meet up, please contact us.
The 3DEXPERIENCE World 2020 keynote speakers are especially exciting.
Dean Kamen is a hero in innovative medical device invention with more than 440 U.S. and foreign patents. He is also the founder of FIRST robotics that brings students into the world of technology through robots. An inventor, entrepreneur and tech advocate, Dean Kamen is a passionate and tireless technology trail blazer – his keynote is sure to inspire.
Charles Adler is the co-founder and former head of design at Kickstarter, bringing innovation and entrepreneurial spirit to the ways independent creative endeavors are funded.
Sam Rogers is the Additive Design Lead and Jet Suit Pilot from Gravity Industries which manufactures the Gravity Jet Suit, a fully 3D printed suit in metal and polymer.
Each speaker brings inspiration and excitement. We can't wait. The engineers and innovators scheduled for the different sessions will discuss new ways of designing, inventing, and manufacturing in the 21st century. It's always refreshing to learn how to accelerate innovation and improve design techniques at 3DEXPERIENCE World.
See you in Nashville!