IF you are not aware already, SolidWorks will be discontinuing support of PDM Workgroup in 2016 and replacing the product with SolidWorks PDM. SolidWorks Enterprise PDM (commonly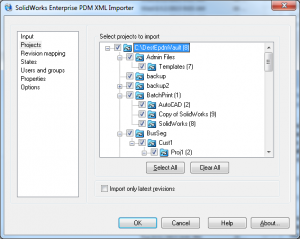 referred to as SolidWorks PDM) will be rebranded as SolidWorks PDM and come in two flavors: (1) SolidWorks PDM Standard and (2) SolidWorks PDM Professional.
SolidWorks PDM Standard will be based on the same core engine as SolidWorks PDM (or now SolidWorks PDM Professional) but will have less features and functions. For instance, it is positioned to only manage SolidWorks and dwg/dxf files via DraftSight. It will have modest vault size and no ability to create neutral file types like PDFs and no API availability. Obviously, this product will be geared to companies that only need basic SolidWorks document management. It will have a lower price than SOLDIWORKS PDM Professional (the CAD Editor licenses are included with SOLIDWORKS Professional and Premium. Therefore if companies need more functionality than what is provided in SOLDIWORKS PDM Standard, they should consider Professional.
In any case, companies that have SolidWorks Workgroup should start thinking about their migration path to either SolidWorks PDM Standard or Professional. Although SolidWorks will provide tools to help analyze Workgroup databases and assist in migration, xLM Solutions has vast experience in implementing these types of migrations and we can provide guidance and assistance as needed.
We can help you:
Analyze current Workgroup environment; make recommendations on migration paths i.e., SolidWorks Enterprise Standard or Professional or other PDM/PLM system
Identify possible issues or corruptions with data in Workgroup and suggest options to address and fix such problems
Install and configure SolidWorks PDM to mimic similar functionality in Workgroup or expand SolidWorks PDM to address additional requirements driven by the business
Migrate data from Workgroup to SolidWorks PDM

Simple migration – One to one mapping from Workgroup to SolidWorks PDM
Advanced migration – most likely due to process re-engineering where it is not a one to one mapping and data needs to be manipulated and changed to migrate into the new system

Porting of customizations from Workgroup to SOLIDWORK PDM Professional
Support in administrating SolidWorks PDM
xLM Solutions has over 10 years experience in implementing PLM/PDM systems including SolidWorks PDM (now SolidWorks PDM Professional) and migrating data into SolidWorks PDM. We have proven methodologies, tools (both tools provided by SolidWorks and our own) to help streamline this process while addressing business needs, limiting issues and minimizing down time.
If you have any questions with this transition from SolidWorks PDM Workgroup to SolidWorks PDM or how such a transition may affect your company, feel free to contact us at xLM. We will be happy to review your environment and address any questions you have may free of charge. We can be reached by email at info@xlmsolutions.com or by phone at +1.248.926.5932