We have developed a new widget for 3DEXPERIENCE on-premise implementations that allows users to save new Drawings or Documents to later revisions. Previously, users had to start with the first revision in the revision sequence when making updates. Our new widget accelerates the revision process, minimizes the risk of errors and maximizes efficiency.
The Update Revision 3DEXPERIENCE Widget supports all POWER'BY mechanical CAD (MCAD) integrations and CATIA 3DEXPERIENCE. It can be launched from the compass and pinned to any dashboard.
Update Revision 3DEXPERIENCE Widget Features
Are slow and cumbersome revision processes affecting your workflow? Are you looking for a faster way to update revisions and satisfy the requests of your customers or OEM partners? If so, this is the perfect widget for you. You can complete revisions in a few simple steps without a significant disruption to your workflow.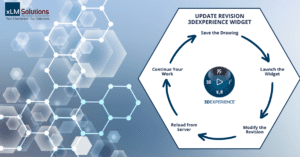 Key features include:
Allows updating a new object revision.
Configurable types. Mainly used in cases of Drawings or Documents, but can be configured to support other objects, as well.
Validate that the objects are indeed new and in work state only.
Widget can be launched from the compass and pinned to any dashboard.
Supported in all UPS.
Supports all POWER'BY MCAD integration and CATIA 3DEXPERIENCE.
Interested in learning more? Watch our demo now. 
How are Customers Using the Update Revision 3DEXPERIENCE Widget?
This widget can be configured to work with any object, but most of our customers are using it to complete revisions to Drawings or Documents. One popular use case is leveraging the widget to modify legacy revisions from outside the 3DEXPERIENCE platform. Customers are also using it to work effectively with clients or original equipment manufacturers (OEMs) who may require revisions to existing deliverables.
The Update Revision 3DEXPERIENCE Widget is one of many tools and widgets developed in the xLM Solutions Lab. Our customers come to us with unique challenges and we solve them with innovative solutions that unlock collaboration, efficiency and ingenuity in the 3DEXPERIENCE platform on-premise or in the cloud. You can learn more about our tools and widgets here. 
If you're interested in applying the Update Revision 3DEXPERIENCE Widget to your 3DEXPERIENCE on-premise implementation or need assistance with a 3DEXPERIENCE project, please get in touch with our team now.