In the world of engineering, where efficiency is paramount, even seemingly small improvements can have a significant impact. One such area is the organization and display of properties in native apps within the 3DEXPERIENCE platform, which can greatly enhance the user experience and streamline decision-making. 
For many, the ability to see properties in a specific order can make a world of difference. Whether you're dealing with supplier-related information, grouping industry-specific properties, or segregating customer-specific data, having the right properties at your fingertips can save valuable time.
Consider these scenarios:
You want to view all supplier-related properties on the PLM Object together.

You need to group industry-specific properties for quick access.

Customer-specific properties, such as Material Info and Weight and Balance information, should be neatly organized.

You have a property which determines the value for another property. For example, custom part number attributes rely on one another to formulate the final part number. Having them in a logical order is user-friendly.
While native apps like CATIA and DELMIA may not always make it straightforward to customize the visual experience out of the box, thanks to the advent of configurations using the Data Setup app, you now have the power to re-arrange properties and attribute views in native apps.
The key resource you need in the Data Setup app is "Attribute Layout Customization," which allows you to configure the layout. For 3DEXPERIENCE platform administrators, this resource should be familiar, as it's a versatile tool for configuring various aspects of your project.
Understanding the Attribute Layout Customization Resource
There are two resources available under the Attribute Layout Customization area, and each has a specific purpose.
New Content UI:

Configures the view for the New Content command.

Properties UI:

Configures the view for the Properties command.
The properties page will display attributes in the same order as specified in the XML files. However, exercise caution to avoid misconfigurations in the XML files, as they can lead to unexpected behavior or have no effect on property display.
To provide a practical example, let's look at a sample test configuration and its outcome.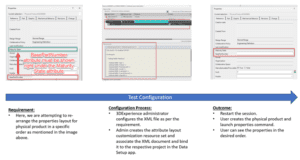 If you're intrigued by this and want to explore it further for your specific use case or need assistance with a 3DEXPERIENCE project, don't hesitate to reach out to xLM Solutions today.