Our team is proud to participate in a number of Dassault Systèmes events every year, but COExperience is one of our favorites. That's because our team at xLM Solutions is committed to providing education, training, best practices and other resources that help our peers, colleagues and customers get more out of Dassault's suite of solutions, and that's exactly what the Community of Experts (COE) and its flagship event, COExperience, is all about.
This year, that meant taking a trip to sunny Miami to network, learn and grow with the experts themselves – and we were honored to be among the presenters.
We've also marked our calendars for COExperience 2024 and recommend you do the same. COE 2024 will be in San Antonio, Texas, May 12-15, 2024.
As we described in our previous blog, we presented two sessions at COE 2023:
Using the XPDM Tool for Various Import and Export Scenarios
We discussed how to use the XPDM Import and Export tool to import and export data from 3DEXPERIENCE. The presentation focused on the XPDM XML data format and how to use business logic to enhance and/or customize import/export behaviors.
Migrating Data to 3DEXPERIENCE
Attendees learned about the 3DEXPERIENCE data migration process and issues that need to be considered when planning and implementing projects. The session also addressed specific considerations and technological tips when conducting a PDM data migration.
xLM Solutions provides specialized services and solutions to best implement and configure 3DEXPERIENCE for your needs and will be hosting webinars in the coming months dedicated to topics like the ones we discussed at COE 2023. Keep an eye out for webinar announcements and contact us if you'd like to discuss our COE 2023 topics, or any others, in depth.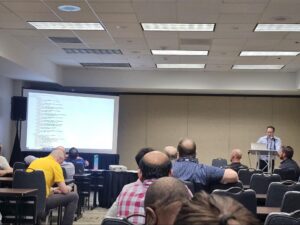 Learning from the Experts at COE 2023
One of the best things about COE is that it brings together an extremely diverse user community and hundreds of experts, each of whom is focused on a slightly different niche and has unique thoughts to share on how Dassault solutions can drive innovation, efficiency, productivity and growth. 
Some of the main themes and presentations that caught my eye this year are:
Model Based Systems Engineering (MBSE)

Virtual Twins

Sustainability

Manufacturing Optimization

Digital Asset Management
Model Based Systems Engineering (MBSE)
MBSE has been a hot topic in the engineering community and was prominent during COE 2023. Although this approach isn't new, it's still extremely relevant, in part, because Dassault is a leader in MBSE and many companies are using its suite of solutions to manage and simplify product complexity in development.
This year, there were a couple of keynote sessions dedicated to MBSE. Dr. R. Byron Pipes, a John L Bray Distinguished Professor of Engineering at Purdue University discussed MBSE applications in advanced composites manufacturing and Chris Garrett, a Senior Leader for Systems Engineering at the US Air Force, highlighted an MBSE acquisition system. 
There were quite a few other training, product and process sessions dedicated to the topic and I enjoyed learning more about how companies in aerospace and defense and other verticals are leveraging MBSE to simplify engineering complexities and accelerate innovation. 
Our team at xLM Solutions will continue to watch the MBSE space and the evolution of Dassault's product portfolio. If you'd like to learn more about MBSE, please get in touch. You can also find more information about MBSE from the International Council on Systems Engineering. 
Virtual Twins & Sustainability
Gartner defines a digital twin as "a digital representation of a real-world entity or system" and this explanation, although simple, sums up the heart of the technology well. As discussed in this blog post and this one, our experts at xLM Solutions have found that many of our customers are interested in implementing digital twin technology, but aren't sure how. This is one of our areas of expertise.
Dassault goes beyond digital twin technology to offer virtual twin experiences, which is the process of tying every aspect of a project into a single platform. The next generation of digital twin technology, virtual twins allow teams to visualize and stimulate entire environments to enable improvements across the entire product lifecycle. If you're interested in learning more about the difference between virtual and digital twins, I highly recommend this resource from Dassault.
At COE 2023, I was pleased to see that ENOVIA CEO Stéphane Declee's keynote session co-presented with Matt Sommer, Director of Product Development Operations and IT at Xos Trucks focused on the intersection of PLM and virtual twins. This is an emerging focus for many of our customers and I welcomed the opportunity to learn more about the topic, which can be especially helpful for companies looking to reduce waste and inefficiencies in the design and engineering process and advance their sustainability goals.
xLM Solutions subsidiary xLM Europe recently had the pleasure of helping an industrial equipment manufacturer in Europe evaluate digital twin technology. The company upgraded to the latest version of 3DEXPERIENCE in the cloud and we also helped the team identify additional opportunities for integration and developed best practices for its processes. 
Final Thoughts on COE 2023
It's fascinating to see the transformative ways COE leaders are using Dassault technology and we thoroughly enjoyed taking a deep dive into product enhancements, themes and other topics on display at COE 2023. We also had a great time exploring Miami and soaking up some sun, which tends to be in short supply at our headquarters in Michigan this time of year. 
We've been working with Dassault's suite of solutions, including legacy systems like ENOVIA SmarTeam, for years and it's inspiring to see the direction the company is moving in with the 3DEXPERIENCE platform. We highly recommend the 3DEXPERIENCE platform because it fosters collaboration among global teams and contains all of the tools companies need to reduce errors and accelerate innovation throughout the product lifecycle, which sets the stage perfectly for virtual twin experiences. 
If you're interested in learning more about any of these topics or our presentations at COE 2023, please get in touch. We look forward to seeing everyone again in San Antonio for COE 2024 but, in the meantime, are here to help you with end-to-end PLM and PDM services, including implementation, integration, data migration and customization.